Jurassic Planet – Got To Know Holiday Camps
June 19, 2017

-

June 23, 2017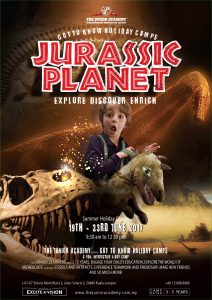 Campers will be able to discover the prehistoric planet and explore the time when dinosaurs roamed the earth. Budding Palaeontologists will discover prehistoric fun at our Jurassic Planet Camp! Campers will have a chance to do "digs" to discover dinosaur bones, redesign their own dinosaur skeletons, explore the fossils in the Dinosaur Dig and make their own fossil to take home. Don't miss The Junior Academy Dinosaur museum, which will also showcase your child's work in class.
Educational Objectives:
> Language and Vocabulary Skills    > Art and Craft to take home
> Numeracy Skills                                > Music and Movement
> Sensorial Skills                                  > Communication/Social Skills
> Fine Motor Skills                              > Individual Thinking Skills
> Problem-Solving Skills                    > Gross Motor Skills
DATE: 19th – 23rd June   TIME: 930 am – 1230 pm    FEE: RM 880
Click here to make a reservation now!