Little Mad Scientist
June 24, 2019 @ 9:30 am

-

June 28, 2019 @ 12:30 pm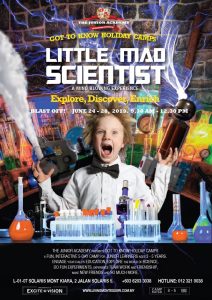 Where does the rain come from?
Why are the clips all stuck to the piece of metal?
What happens if I mix to that?
Are you frequently overwhelmed by your children's no ending WHYs?
All children are inquisitive explorers by nature and science is a great medium that offers them to explore, get curios and learn to think critically.
Discover about the states of matter by filling up balloons with different matters,learn about heat by melting crayons, making  oobleck, race with magnetic car and experiment walking on eggs.
Come on and join us now and we will put on our lab coat together and start exploring. There will be so much fun and mind-blowing moments awaiting!
And maybe….. your child will be able to tell you the answers to the WHYs after this camp!