Noah turned four years old last November 12th. My how fast they grow! To celebrate his birthday, Noah's parents organised a pool and pizza party with family members. His grandparents, aunties and uncles and most importantly, his cousins turned up. Everyone knows that Noah loves the water and he jumped right in even before his cake cutting! His cousins, Ali, Esmael, Eskandar, Mikhail and Eskandar all joined in the fun.
For the cake, the parents ordered one with his current favourite thing, the Hot Wheels toys! It's a cake with Hot Wheels cars and a 'track'. Of course balloons were also brought in to make the place look livelier and his favourite was a ballon in the shape of a giant figure four.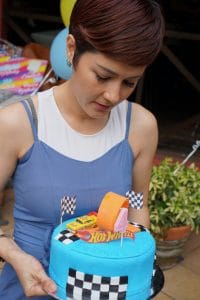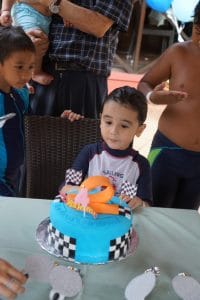 Everyone had lots of pizza, laughed, played and had fun.
But that was not the only birthday celebration! Noah had to have another one at his school, The Junior Academy, with school friends! There were more balloons and another Hot Wheels cake! The celebration was done in the Montessori way, The Montessori Celebration of Life which includes a slide show of important milestones in Noah's young life and of course the Montessori Birthday Walk.
So what is the Montessori Birthday Walk you say? It goes like this – The birthday child walks in the shape of an ellipse around a candle which represents the sun, whilst carrying a small globe. The other children sit around the edge of the ellipse and watch. Each complete 'orbit' of the 'earth' around the 'sun' represents 1 year.
They all sing –
The Earth goes around the sun,
The Earth goes around the sun,
The Earth goes around the sun
and Noah turns one (and so on for each year)
After each year, the slideshow representing that year will be shown.
Everyone enjoyed it, especially the parents 🙂
You can see the video here:
The Montessori Celebration of Life is a lovely way to celebrate a child's birthday in a school setting because kids love to hear about the journey from their birth to the present day. They want to hear stories, look at photos, and remember wonderful memories. They want to know how loved they are, and how our life and world is better because they were born into our family or now belong to their school.
It was a truly fun birthday experience and everyone is actually looking forward to next year!