During the recent holidays, Noah's parents took him to a beautiful island in the east coast of the peninsula, named Redang Island. Initially the parents were a bit worried about how Naoh would react because even though Noah has been to the beach in Penang and Port Dickson, an island holiday in a place like Redang is totally different. This was because they were not staying in a hotel which was equipped with resort amneties but at a basic chalet resort, reason being the parents love the beach at Telok Kalong and the only resorts there were chalets. On top of that, their helper was not joining them for this trip, so this trip was going to be different!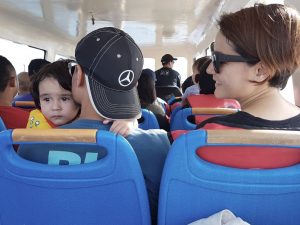 The journey started at 3am as they needed to catch the 9 am boat. After the four hour drive and a 45 minute boat ride, they finally arrived at the beautiful Telok Kalong. The beach there is amazing! The sand is soft and sandy and turquoise water is so clear, you can see the fishes!
Noah at first did not want to walk on the sand. This was not something new as he had showed before that he did not fancy sand.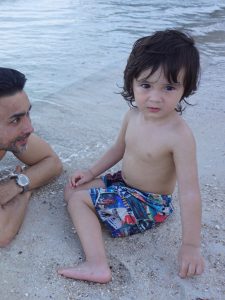 His parents however were determined to get him to experience sand and guided him hand in hand on the sand. They even left him on the sand alone for short periods! After for about an hour, Noah was walking around like sand was the normal terrain he grew up in. He even took off his slippers!
Next was the sea. Even though Noah loves the swimming pool, he was a bit hesitant when it came to the sea. So at low tide, his father slowly guided him to the water's edge. At first he would not step into the sea. His father had to carry him in.
After about 30 minutes, he was ok with gingerly stepping at the edge of the water.
As the water was calm & there was no tide at all in the bay, his parents allowed him to play closer to the water. After about another hour, he was walking in up to his waist, all by himself!
This was clear evidence that Noah and perhaps children in general should not be forced into doing anything new but instead, ease into a different environment at their own pace.
More in part 2