Even before he turned three, Noah showed a keen interest in flags, countries and maps.
Nowadays we can say that his love has grown stronger!
He can easily identify flags that sometimes his parents do not know about! We think that he is attracted to the different colours and designs but who knows, Noah is not telling us why he loves flags and countries so much! He also likes to play ABC games by naming countries that start with each letter of the alphabet.
Noah's mum, Yasmin Hani, added "Noah just loves to learn. He will come up to us and ask us to read out new names and countries"
Another skill we noticed is that he can point out countries on a world map. That is quite an achievement for a three year old!
Even at The Junior Academy, Noah's school, he will always be attracted to the globe and the little toy flags that they have there.
We think that perhaps one day Noah will grow up to be an adventurer or a globe trekker!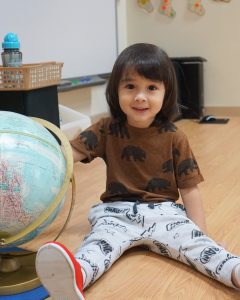 Watch these video to see we mean!
https://m.youtube.com/watch?v=qyTwoVcMPy4
https://m.youtube.com/watch?v=Lz6W2VzeKi8
https://instagram.com/p/BO9nQpKjn8N/